On the verge of buying a WordPress hosting subscription from WPX Hosting? Before you do that, check out this exclusive WPX Hosting coupon to save a few bucks on your purchase.
It is never easy to find the best platform to host your website. Because almost every one of them claims to be the best hosting provider on the internet. There are only a few hosting providers who focus on providing the best service instead of promoting themselves, and WPX Hosting is one of them.
The pricing plans of WPX Hosting are a bit expensive; that's why I brought you these exclusive WPX Hosting coupons to help you save some money on your purchase. I will also explain how you can claim these offers without any hassle.
Let's get into all the juicy details.
Available WPX Hosting Coupon Offers (2023)
Here are the best WPX Hosting coupon offers:
Coupon 1. If the above offer expires, then you can use coupon code "FIFTYOFF" to save up to 50% on your purchase of a monthly plan. This discount will only be applied for the first month. You need to pay the regular price for the second month.
Coupon 2. This is an official offer where you can get up to 2 months free with annual plans. The annual plans' pricing is reduced to give you an equivalent of 2 months off. This offer is best if you want to use WPX Hosting in the long run.
So these are the available coupon offers on WPX Hosting. Grab them as soon as possible because they are expiring really soon.
How To Claim WPX Hosting Coupon Offers Easily?
So I've explained all the available offers for WPX Hosting. Now I will explain how to claim these offers easily. Take a look at all these steps and follow them to apply the discount successfully.
Step #1: If you don't find the offer on the website, use this discount link to activate the offer for you automatically. From the website's homepage, you need to select View Plans.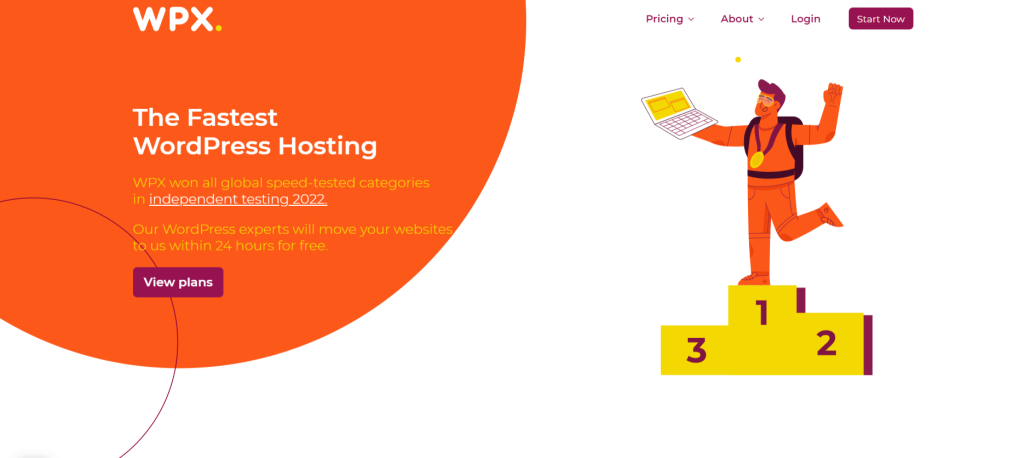 Step #2: In this step, you need to select the Monthly plan. You can see that WPX Hosting has three pricing options for WordPress Hosting. Click on the "Buy Now" button to choose any one of the offers according to your needs.

Step #3: Now, they will ask you if you already own a website or are looking to launch a website. Enter the domain URL if you own a website or search for a domain you want to buy and then click on the "Continue" button.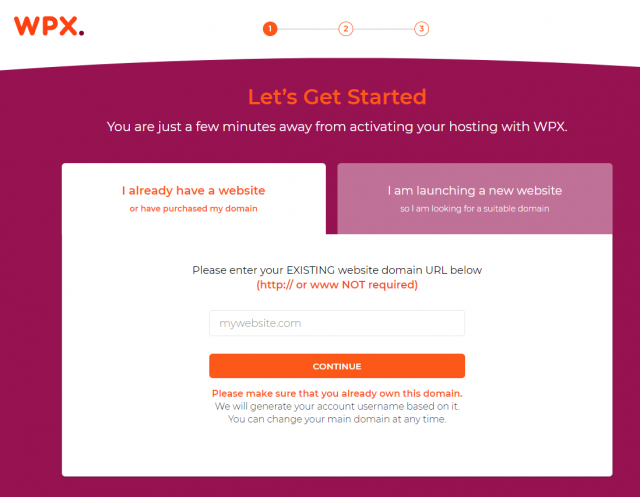 Step #4: If you get stuck anywhere, then you can also chat with the support team in real time. Now you need to choose a hosting location. They offer three hosting locations, and that is the UK, US, and Australia. Click any one of the options based on your location to move on to the next step.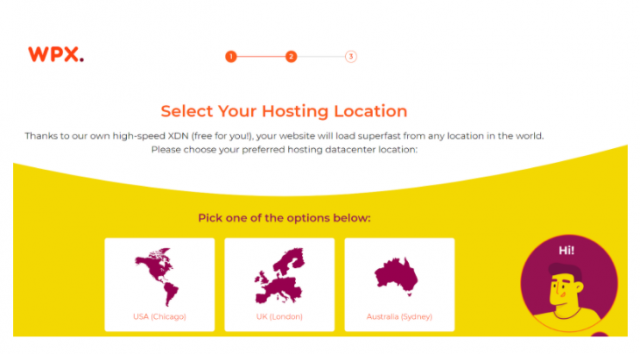 Step #5: Now, they will ask you to create an account on WPX Hosting, and for that, you need to enter your name, country, state, city, postal code, address, password, and email address. You will also see the coupon code option where you need to enter any of the above coupons to apply the discount.
Step #6: Choose a payment method and then select the checkout button. Fill out all the necessary information to complete the payment.

You've purchased WordPress hosting at a discount price successfully. You will receive an account activation email at your registered email address.
Key Features of WPX Hosting:
In this section, we have listed the key features of WPX hosting. Let's have a look.
Unlimited SSL Certificate
Single Click WordPress Install
Staging Area
Unlimited Site Migration
Superfast SSD Storage
Datacenter Locations in the USA, Australia, and the UK
28 Days of Automatic Backup
High-Speed Custom CDN
DDoS Protection
WPX Hosting Pricing Plans
Check out the pricing of all the plans of WPX Hosting to know their pricing and features in detail.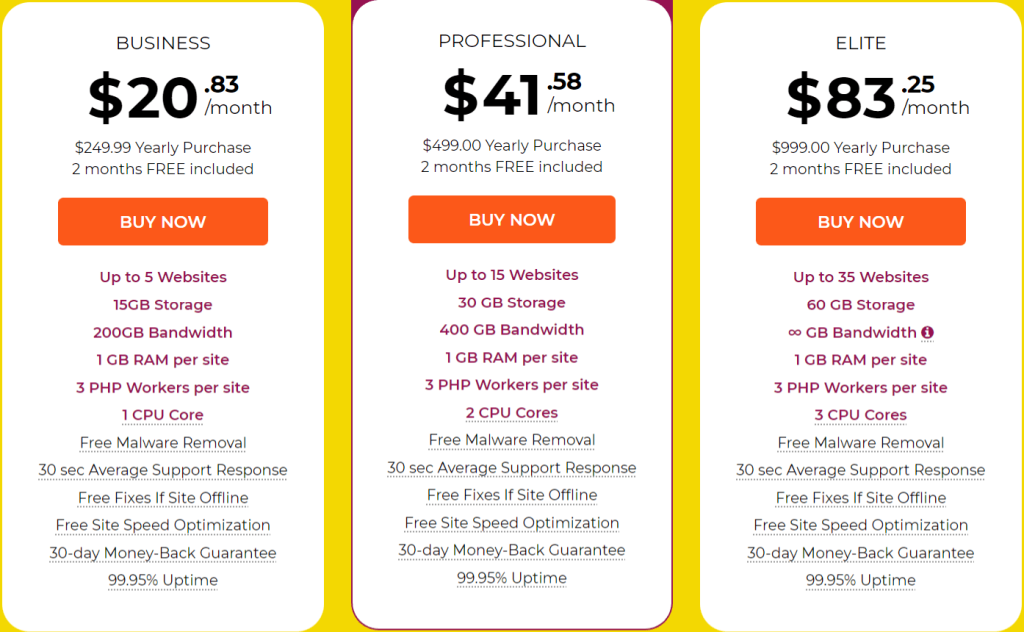 1. Business Plan: The Business Plan has a pricing of $24.99/mo monthly and pricing of $249.99/year yearly. This plan is best if you want WordPress hosting for five websites. This plan gives you access to 100 GB of Bandwidth, instant response on support chat, free fixes if sites get offline, malware removal for free, and site optimization for free.
2. Professional Plan: The Professional Plan has a pricing of $49.99/mo monthly and a pricing of $499/year yearly. This plan is best if you want hosting services for 15 websites. This plan gives you all the Business plan features, except you get 200 GB bandwidth and 20 GB storage.
3. Elite Plan: The Elite Plan has a pricing of $99/mo monthly and a pricing of $999/year yearly. This plan also includes all the features of the Business Plan, along with you get unlimited bandwidth and 40 GB of storage. This plan is best for those who have up to 35 websites, and they provide hosting services for all of them.
You can also purchase domains from WPX Hosting. Their domain charges are fixed, and they charge $13.99/year for .com domains, $16.99/year for .net domains, $15.99/year for .org domains, and so on. You just have to search for the domain name you're looking it will show you the availability.
WPX Hosting: Pros & Cons
Here are some pros & cons of WPX Hosting.
Pros:
Get amazing speed with its SSD storage
Provide high performance to your hosting
24*7 dedicated customer support team response within a minute
Offers free migration
A little bit expensive but better than its competitors
Cons:
Its bandwidth is pretty limited
Expensive for the beginners
Related Read:
Conclusion: WPX Hosting Coupon Codes (2023)
WPX Hosting does not offer a lot of diversity in its pricing plans. They kept it very simple, and the features are also top-notch. Its hosting services are designed in a way that is a perfect fit for everyone. You can host more than one website at once, install WordPress with just one click, 30 days of the money-back guarantee, no need to pay for migration, daily backup, daily malware scan, and so on.
I hope with the WPX Hosting coupon, you can save a few bucks on your purchase. In the comment section below, let me know your thoughts on these WPX hosting offers.
FAQs
Can I switch to WPX easily?
Yes, you can easily switch to WPX. You just need to contact their support team with your requirements and they will tell you the steps that you need to follow.
How much maximum discount can I get using this WPX coupon?
You can save up to 50% with our discount codes. All you need to do is use code FIFTYOFF at the time of checkout.
Does WPX Hosting offer any refunds on cancellation?
If you cancel your WPX Hosting account within 30 days of purchase then they will refund your full amount. You need to make sure you're applying for the refund within 30 days.
What payment does it accept?
WPX Hosting accepts all major types of credit cards (American Express, Visa Credit Card, Master Card, Discover Credit Card) and PayPal.
Is your XDN (CDN) is free?
Absolutely yes, your XDN (CDN) is free for all its subscribers on all its pricing plans.
Is WPX Hosting and Planet hosting are same?
From October 4th, 2016 Planted hosting is rebranded as WPX hosting. 
Can I host my craft and photography website on WPX?
Of course, WPX doesn't allow enterprises and organizations to use its service. It doesn't matter if you are a beginner or a professional photographer, you can host your website.
What are the WPX Hosting data centers?
WPX hosting has three data centers to select from Chicago (USA), London (UK), and Sydney (Australia).