This week we're catching up with three of Sydney's leading coworking spaces who are driving collaboration within Sydney's startup ecosystem.
Fishburners, Tank Stream Labs and Stone & Chalk open up about what they have in store for 2018. But before we jump into that, we want to show you some of our favourite parts of each coworking space.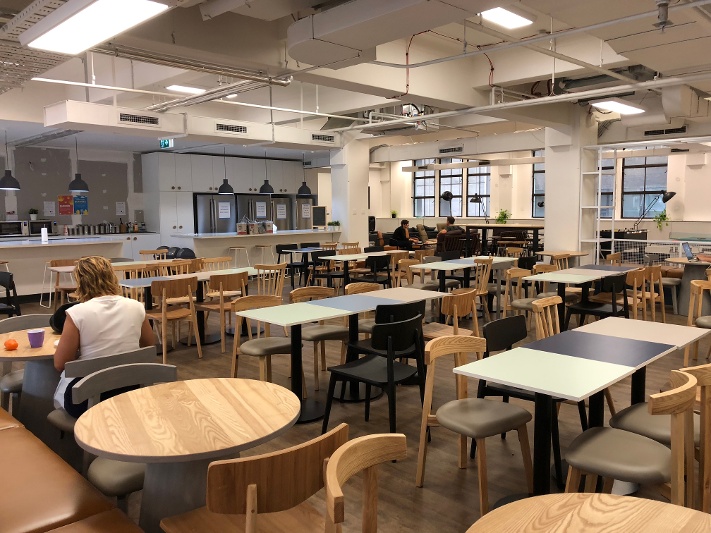 Fishburners' "Idea Space"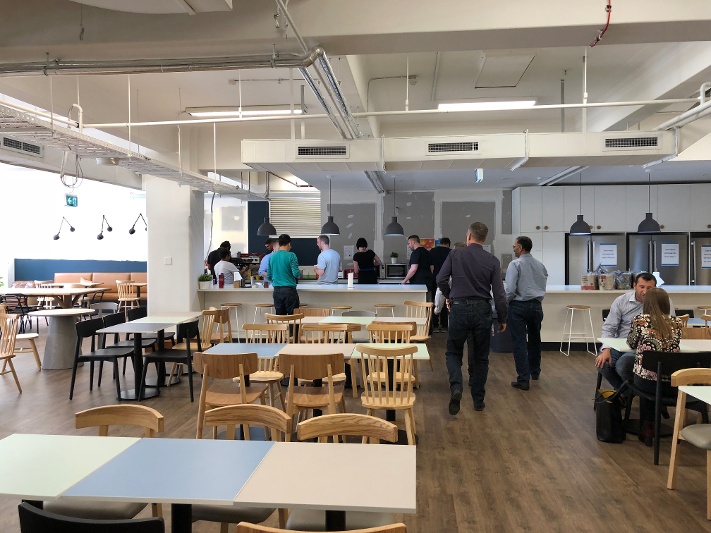 Fishburners' "Idea Space" & Kitchen
Fishburners history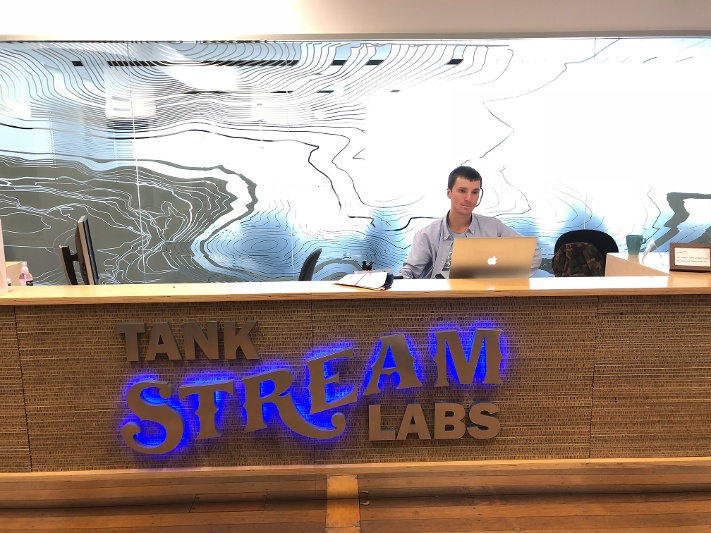 Tank Stream Labs Reception
Tank Stream Labs Bar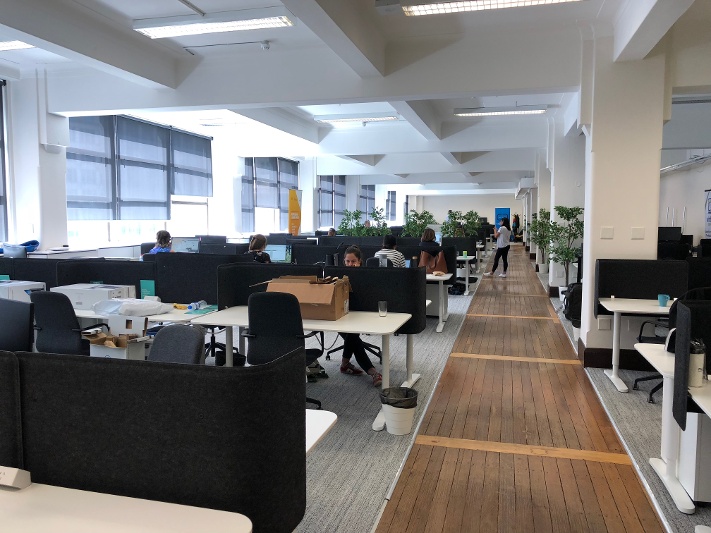 Tank Stream Labs Coworking Space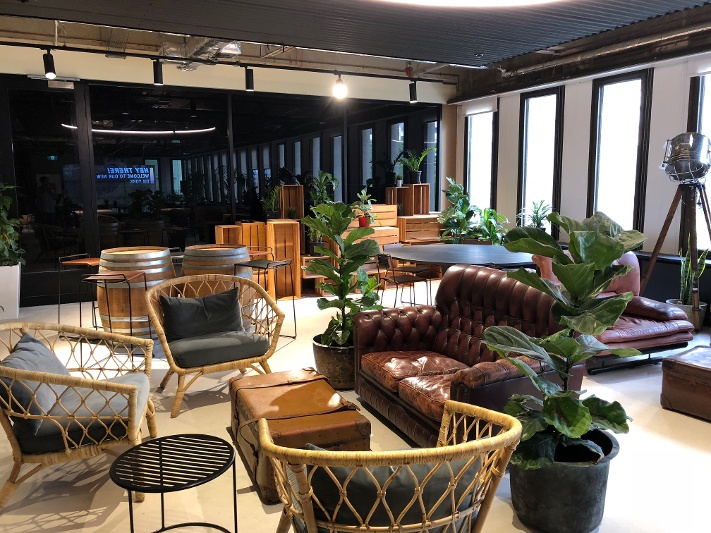 Stone & Chalk breakout space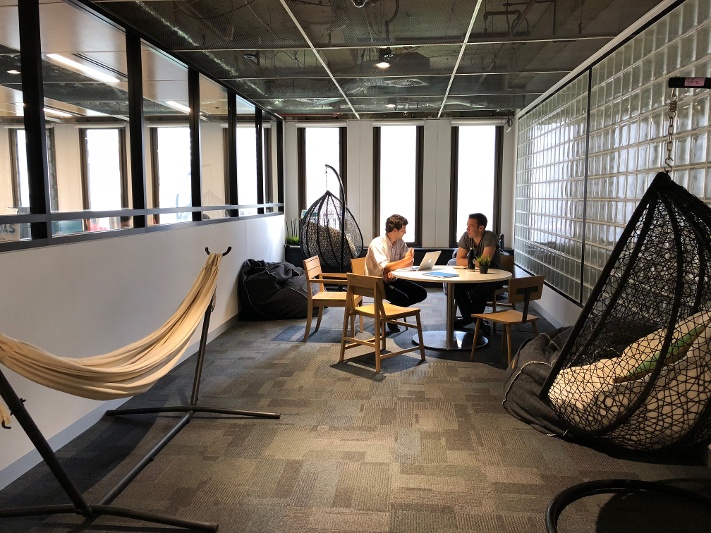 Stone & Chalk chillout room
Celebrating member wins at Stone & Chalk
So if you like what you see, spend a bit of time hearing what Fishburners, Tank Stream Labs and Stone & Chalk have to say about what sets them apart, their focus for the year and the benefits they provide their members.
Fishburners
With some recent change at the co-working space, we're thrilled to speak with Fishburner's new CEO, Pandora Shelley about the space and her plans.
What is Fishburners all about and who are you best suited for?
Fishburners is the place where startups start and grow. Our focus is on early-stage startups (ESS), especially scalable tech startups because we believe the will create the big jobs and revenue for Australia. In the past, due to space restrictions, teams larger than six had to move on as they grew. However, now we have this beautiful and large space in the CBD, our focus is retaining those startups with larger teams and fostering their growth.
What makes you different to other co-working spaces?
Whilst our focus is predominantly on early-stage startups and scalable tech I would say one of the key differences about Fishburners is our collaborative community. This is something we really pride ourselves on. Fostering a strong community and supportive culture is a big thing for us. The great thing about Fishburners is if you're starting out, there is always someone ahead of you and behind you in terms of knowledge and growth. So you always have someone to learn from and to teach. Whilst our startups are working on a range of industries and verticals, they tend to face common challenges and move on a similar path. So knowledge sharing is key and we support this at all levels - from events, workshops, connecting members for one-on-ones and the partnerships we secure. Being in a ESS you need to have a broad expertise in all areas of your business - marketing, finances, product and tech. However, that's usually not the reality for most founders. So that's why our supportive community is so important as there is always someone here who is willing to help support you in solving problems. Either they've done it before, or they can connect you to someone else. Due to the nature and stage of our member businesses, founders are hungry to learn. They're not full time consultants who are billable by the hour, they're building scalable tech so by nature they give back to the community. So it's a nice loop of give and take.
Community is in our pedigree and has always been the heart and soul of what we do. I like to tell the story of what Fishburners was like when I first started in 2011 to explain why our community is so collaborative. I was Fishburners first employee and at the time the community was run by the members who filled the 30 desks available. In those days members did everything, including taking out the rubbish as we didn't have a cleaner! When it came to knowledge sharing, back then our Co-Founder Peter Davidson (an early investor in PayPal) and our Founding Director Pete Bradd were initially mentoring members, and then other members would host groups to pass on their skills. Being a member-run community has always been in our fabric.
At Fishburners our strength is the role we play as a connection piece. We're not an accelerator who tells you how to run your business but can introduce you to someone either internally or externally that can assist. We are an enabler and to be known for fostering the initial growth stages of key Australia's startup success stories. We're super proud of some of the amazing talent that has flowed out of Fishburners such as Koala Mattresses (turning $14m turnover in their first year), Hyper Anna (raised $16m backed by AirTree & Sequoia), JayRide (ASX listed), TinyBeans (ASX listed) & Snappr ($2m raised) (YCombinator).
What have you got planned for your space this year?
It's no secret that over the past few years we've been very focused on expansion, not only trying to find a larger home for our Sydney community but also setting up shop in Brisbane and Shanghai. So now we're settling into our new home in Sydney and we're not distracted by our housing situation, we're going to focus even more on taking our community to the next level. A big aspect of this will be enabling even more learning opportunities for our members. One way we'll be driving this is through further corporate partnerships, collaborating with other spaces, pulling in our network of experts to help further educate our members. We're looking to ramp up our expert events like providing our members with more exposure to investors and help them to begin fostering more VC relationships. Because when it boils down to it, success for us is seeing more businesses like Koala coming out of Fishburners. It's crazy to think HyperAnna joined with just an idea and then went on to be discovered by an investor at our Friday night pitches. This is a great example of the FIshburner Effect.
What are the member benefits?
There are many benefits of joining our community as I've explained above which transcends affordability, location, free coffee and our beer keg. My belief is that due to the strength of our community your membership will pay for itself through the advice you'll receive and the mistake you will avoid.
How much does it cost?
A Community desk will set you back $350 + GST a month. A hot desk concept without 24-hour access.
A dedicated desk costs $550 + GST month. This is your desk and allows 24-hour access.
Tank Stream Labs
Next up we caught up with Brad Delmare the CEO at Tank Stream Labs who has been extremely busy not only moving into the SSH but also recently announcing their expansion plans to Perth!
Tell us about Tank Stream Labs. Who are you best suited for?
Tank Stream Labs is a leading breeding ground for entrepreneurs, thought leaders and early adopters. Our community is made up of the future tech leaders in Australia with Global aspirations. The type of businesses suited to Tank Stream Labs are startups or scale-ups that are in the commercialisation stage of business i.e. have launched or soon to launch their product or service to market. In addition, we are home to international businesses that are launching into the Australia market. Tank Stream Labs has been helping startups since 2012 and we have been home to many successful Australian and international businesses i.e. Airtasker, Expert360, Stockspot, Equitise, Buzzfeed, Survey Monkey just to name a few.
What is a key point of difference between you and the other co-working spaces?
Tank Stream Labs does not specialise in any particular vertical of technology, we are home to businesses from all different markets. We focus on building a strong community and encouraging collaboration between our members. In order to achieve this, competition is important to our members and we limit any competing companies in our community. Our point of difference is the stage at which businesses are at. We are focused on businesses that have launched their product or service into the market, focusing on scale, expansion with potential global aspirations. We have also built a network of international partnership with similar co-working spaces in major cities across the globe to help our businesses with international expansion plans.
What's happening at TSL this year?
We want to continue to build the Tank Stream Labs community and have designed a space to enable us to do this. We will continue to focus on open plan office space rather than private offices as we believe this successfully builds a community and encourages collaboration. We will be home to some of Australia's most successful accelerator programs (names soon to be announced). We will also have an education focus for students which is important for training the future business leaders of Australia.
What are the member benefits?
We have many benefits for being part of the community. These benefits range from services and facilities we provide i.e. event spaces, meeting rooms, events, programs, access to global corporate partners etc, through to social and networking benefits. We also have a focus on health and wellbeing so there will be a number of add-on benefits companies will receive for being part of the Tank Stream Labs community.
The greatest benefit is working alongside successful entrepreneurs and having access to these like-minded entrepreneurs.
How much does it cost?
We have various pricing structures depending on full time or part time memberships. The majority of our members will be full time dedicated desks. The cost for a dedicated full-time desk will be $700 (per month). This cost includes all services and facilities we offer and we do not have any additional costs.
Stone & Chalk
Last but definitely not least, Julia Schaefer, Head of Community and Communications at Stone & Chalk takes us through what life is like on level 4 & 5.
Who is Stone & Chalk best suited for?
Stone & Chalk is Asia's leading independent fintech home for programs, advocacy, and partnerships. It is best suited for fintech startups who are dedicated to rapidly commercialise and scale, and want to take advantage of our innovation marketplace, which has resident and corporate stewarding programs – inclusive of investor programs, pitch training, mentorship, and corporate business training.
Our resident startups represent a wide range of different disruptive and innovative offerings across the full fintech spectrum, including:
Regtech
Infrastructure
Insurtech
IoT
Cyber Security
Payments
Data
Wealth
Platforms
Lending
What is a key point of difference between you and the other co-working spaces?
Stone & Chalk is not just a co-working space. It is an innovation marketplace offering resident and corporate stewarding programs. The three streams of offerings are as follows:
We procure and host over 500 startup and scaleup programs a year, which are provided complimentary for all of our residents. They are designed to help our residents round out their business acumen to rapidly scale and commercialise, and eventually graduate as Alumni of Stone & Chalk.
We have 24 national and international corporations who partner with Stone & Chalk to inject innovation rapidly into their organisations, access the entrepreneurial genius of our residents by piloting and adopting their solutions into their firms and transform their internal cultures.
We act as a tribe leader of fintech for government and regulators, regularly contributing knowledge and expertise in fintech regulatory reform, representing our residents and industry summits, and driving the fintech agenda on behalf of our community.
Our community ethos is reflected in the type of people we attract — people who live a culture of paying it forward and giving first. We're here to support shared success.
What have you got planned for your space in 2018?
Stone & Chalk will connect the fintech ecosystem in Sydney extending down the Eastern Seaboard, and beyond Australian shores. Stone & Chalk at The SSH will be the centre of gravity for Australian and South-East Asian fintech startups and scaleups; providing a home where they can access programs that are tailored to their specific business requirements, connect them with customers, mentorship, capital, and training.
We will host international delegations who are investigating Australian startups, hold corporate partnership programs, leading category conferences & summits, and will ensure the success of our startups is broadcast beyond Sydney to the rest of the world.
What are the member benefits?
We have a number of programs available to our residents to help them develop and grow as well as have fun as a community. Some of our programs include:
Lunch & Learns: We organise Lunch+Learns with some of the best subject matter experts to help startups across all areas of their business.
Mentor Program: We have a network of 200+ mentors helping startups with strategy, networking, technology, marketing and more.
Masterclasses: Internationally renowned thought leaders, business experts and researchers share their knowledge with our community at these monthly events.
Office Hours: We facilitate one-to-one meetings between our startups and corporate partners weekly.
Investor Community: Our startups have ample opportunities to raise money by pitching to our investor community.
Weekly community forums: We provide a place for all of our residents to regularly come together to share their successes, network with each other, and dip into a ready-made brains-trust.
How much does it cost?
Stone & Chalk offers multiple monthly options for the fintech ecosystem, providing the flexibility for each business.
Part-Time $450
Full-Time Flexible $550
Full-Time $650
Secure Office $780
---
Big thanks to our guests for sharing their insights into the communities they run. If you would like to find out more about why members love these coworking spaces, you can see recos for Fishburners, Tank Stream Labs and Stone & Chalk.
Last but not least, we'll be catching up with the team at The Studio when they open their doors in March!