If you're just starting out building your product, app or service, it's essential that you have the right analytics in place so you can to track your customers' journeys through your product, where they drop off and where they get the most value.
Google Analytics is a great start for tracking page views, and as a free tool, it's hard to beat.
But there are a range of other event based analytics platforms, that will give you much deeper insight into user behaviour and allow you to set up dashboards that align to your key metrics. They all have free plans limited by the number of events you can track and the duration your data is stored.
Three of the most popular event tracking tools are Mixpanel, Heap and Amplitude.
Mixpanel is the most recommended of these three services on Recomazing.
As well as easy to create funnel reports and retention analysis, Mixpanel offers "auto track" a feature that will automatically track events, without you needing to set them up. Meaning you'll never miss a key metric.
They've recently updated their pricing structure. Their free plan offers a huge 20 million events per month and upto three users. However, the plan is let down by only 60 days of data history. If you want to track retention data over time, this may be a dealbreaker.
Their paid plan jumps significantly to $999USD per year, but will likely be one of the better investments you make. And is likely to be the cheapest "Pro" plan of the 3 options.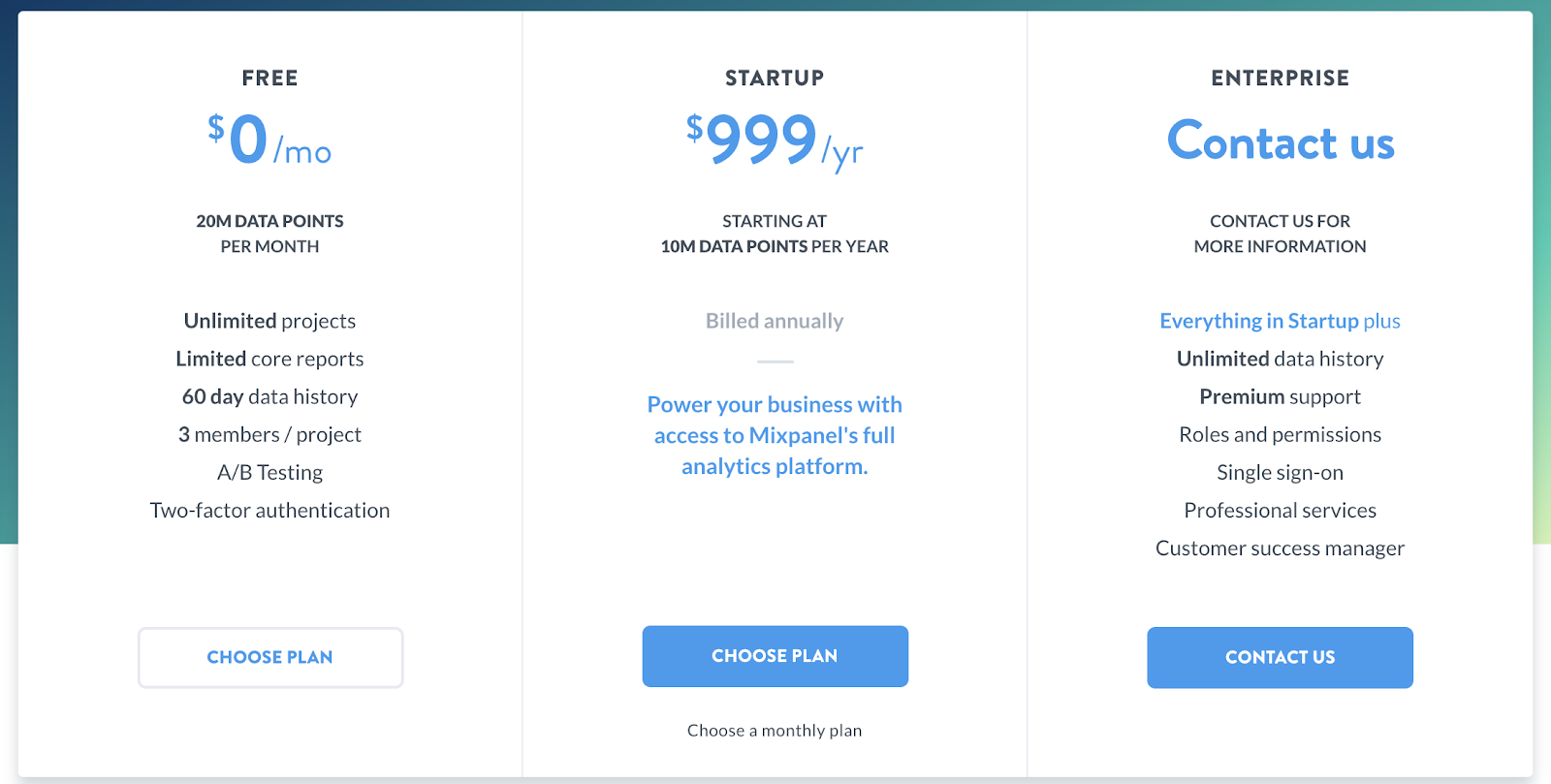 See why some of our tech experts recommend Mixpanel:
Founder at UTM Link Manager
I use Google Analytics for measuring traffic and marketing campaigns to my product. But then, I use MixPanel to understand customer behavior inside my actual product (and when my registered users visit my marketing site). Great for cohort analysis.
Co-Founder & CEO at Mashay
We use Mixpanel because I wanted a bespoke analytics view and it would have taken up too much time to build. We can view journeys at a customer level and what events are triggering. We can track what is happening in the funnel from activation to download (see micro conversions along the way). This is one of few tools that let you take it to a customer level. MIxpanel has the added benefit of eDMs, push notifications and email campaigns to assist with conversion. Pretty easy. And it is FREE.
Heap were the first to offer an "auto track" feature (now available in Mixpanel). They offer up to 50,000 free events per month (when their logo is displayed on your site) and up to 3 months of data storage.
Beyond their free plan, Heap's pricing structure is not clear. You'll need to apply for their enterprise plan, which is likely to be significantly more expensive than Mixpanel's startup offering.
See why some of our tech experts recommend Heap:
Operations and Growth Manager at Ribit.net
I tend to go against the grain when selecting tools. Everyone I knew was using Mixpanel, so I thought I would try out Heap. Turns out they have an awesome free option if you add the badge to your webpage, and it's actually a much more powerful analytics platform in general. Their metrics funnels are great!
Growth Marketer, former Academy XiGrowth Instructor
I'm really impressed by Heap and it's freemium plan. At the moment, Heap can be free up to 50,000 sessions per month if you add a badge to your footer. While their paid version isn't as premium as Amplitude, it's freemium model is really great.
If you want a platform with a substantial free-plan that gives you access to 10m events per months, with unlimited data history and user accounts, Amplitude is your winner.
Whilst their Enterprise plans are pricey ($2K+ a month) you'll get a huge amount of value from their free offering.
We use Amplitude to track user retention and conversion funnels at Recomazing. See why our tech experts recommend Amplitude:
Growth & Data at Canva
At Canva we use Amplitude to measure, analyse, and understand all acquisition, activation, retention, referral & revenue projects. Majority of the company (including analysts, growth marketers, designers, engineers, customer support, product managers) use it on a monthly basis. My biggest hack is that I use Amplitude to understand what your activation 'aha' moment is. They've got a feature that does this very neatly. It helps me to understand and identify correlations in our data. This can then be tied to my next favourite tool (usertesting.com) to understand correlation & causation. It's one the best analytics tools I've used because it is so powerful. The growth team lives and breathes with this tool. Amplitude is suitable for businesses in the launch, growth & established stages.
Head of Internal Analytics at SafetyCulture
Amplitude is an easy tool for onboarding new staff. There is no learning curve and you can jump in and start using it. Amplitude was the very first Business Intelligence (BI) tool we started using a couple of years ago. We have since complimented it with Looker as our Advanced BI tool because we can combine Amplitude event data with our other data as a single source of truth. Amplitude is great for any business as a starting tool. It's easy to create your own visualisations and is a tool I recommend for all startups. The UI is fantastic to use and they're always developing new features.
We'd love to hear your experiences with these three tools, add your comments below, or better yet, link to your reco!