Are you looking for the best Australian WordPress hosting? Choosing the best theme for your WordPress or having an easy-to-navigate site layout or even unique content will all count for nothing if your hosting lets you down.
With more distractions creeping into human civilization, our attention span will continue to reduce. No audience will remain loyal to your WordPress website if it takes forever to load.
In general, the speed of the website servers is one of the most important aspects of any website and shouldn't be neglected in your WordPress website hosting.
From our wealth of experience working with hundreds of small businesses and enterprises in Australia, We understand the importance of fast hosting on the general performance of any website.
In addition, we also see many business owners pay more attention to prices. But if you are in Australia and care about your WordPress website's speed, this article is for you.
What Is WordPress Hosting?
WordPress hosting is the sub-category of web hosting which offers servers and assets specifically optimized for WordPress websites. It is one click installs which makes it easy to get started with WordPress. This provides the best performance and speed for your visitors. WordPress Hosting has a supporting staff that helps you solve the technical issue you are facing on WordPress hosting.
Although, the only technical need for support for running WordPress includes PHP 5.2.4 and MySQL 5.0.15 or higher. But one thing to keep in your mind is that WordPress hosting is not the need if you want to run WordPress.
Fastest Australian Hosting Comparison
| | | | |
| --- | --- | --- | --- |
| WEB HOST | PRICE | LOAD TIME | RATING |
| Elementor Cloud Website | 138.50 AUD | 250ms | ⭐⭐⭐⭐⭐ |
| AWP ALPHA | 35AUD | 273ms | ⭐⭐⭐⭐⭐ |
| Cloudways | 10AUD | 298ms | ⭐⭐⭐⭐ |
| SiteGround | 6.99AUD | 445ms | ⭐⭐⭐⭐ |
| Crazy Domains | 5.42AUD | 225ms | ⭐⭐⭐⭐ |
Our Recommendation criteria
We have highlighted the significant criteria to help you understand our picks and why we consider them the best and fastest.
Location of server
Many Australian WordPress website owners mistakes in hosting their websites with international servers rather than those in Australia. The implication is that your website takes a little bit more time to load due to the distance from the server.
So, this list only includes servers within Australia.
Performance and reliability
This is an essential feature we considered in our recommendation, as it directly impacts the speed of your website.
Technical features
Caching features like Redis and Memcached are essential, as well as backups and raw CPU strength, bandwidth, and storage.
List Of The 10+ Fastest Australian WordPress Hosting
Here we have listed some 10+ Fastest Australian WordPress Hosting
1. Elementor Cloud Website
Minimum Price: 138.50 AUD/year
Minimum Disk Space: 20 GB
Minimum Backup Schedule: Daily, Manual Backups from My Elementor Account
Bandwidth: 100 GB
If you're planning to build a WordPress website then Elementor Cloud Website is the best option to choose. Because it will not only give you cloud hosting from the Google Cloud Platform but also all the features of Elementor Pro.
Pros:
End-to-end solution for website developers
WordPress and Elementor Pro pre-installed
Free custom domain connection & a free Elementor cloud subdomain
Automatic backups every 24 hours along with manual backups whenever you want
Access to drag & drop editor to help you design your website
Cons:
You can not transfer your website from your current hosting provider to Elementor Cloud Website
Can not build more than one website with one subscription
2. AWP ALPHA
Minimum Price: 35AUD/mo
Minimum Disk Space: 10GB SSD
Minimum Backup Schedule: Hourly backup
Minimum Traffic Quota: Unmetered Traffic
This is the best and fastest WordPress hosting for small businesses and eCommerce in Australia. It comes fast with maintenance & SEO tools, free migration, and basic manual speed optimization.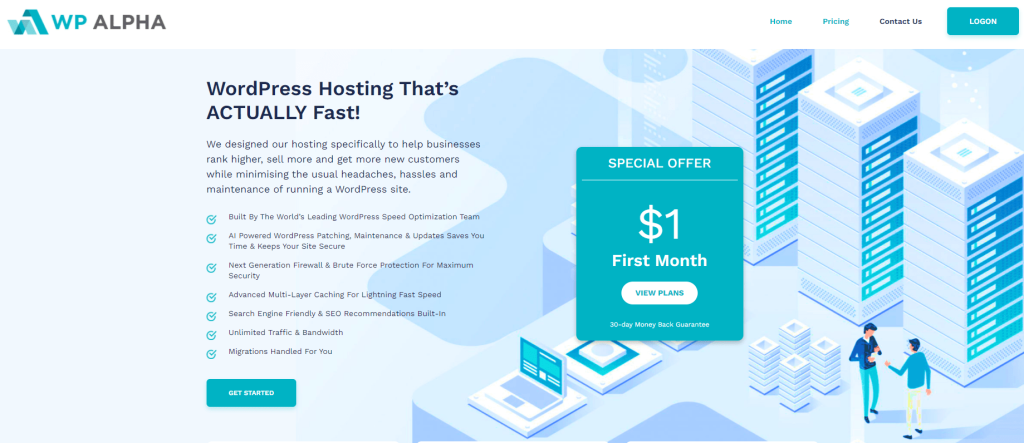 Pros:
It comes with patching and maintenance at no extra cost (many hosting companies charge $100-200/month for this alone!)
Hourly backups, contrary to the daily backups by most hosts
Lots of extra benefits at zero additional cost included
Eliminates the need for switchover with its speed optimization and free onboarding
It also offers bulk plans
Extra speed features like Redis caching
Cons:
Best suited for startups and small businesses; not recommended for enterprise businesses
Too technical advanced features configuration.
Full-featured Admin console comes with many settings that are not so beginner-friendly.
---
3. Cloudways
Priced: Starts from AUD 10 per month
Minimum Disk Space: 25 GB
Minimum Backup Schedule: 1 hour to every 7 days (offers manual backup)
Minimum Traffic Quota: 1 TB (1000 GB)
Cloudways offer something unique in that it offers a dedicated hosting service that eliminates the hassle of a dedicated server hosting.
When it comes to WordPress hosting, Cloudways offers the fastest server in Australia and the entire web. It is scalable, configurable, and also gives you dedicated server resources without extra running technicalities.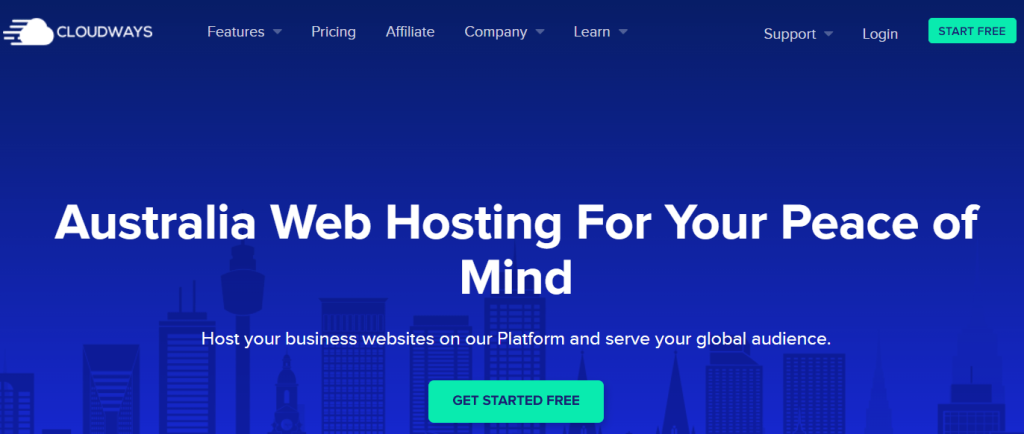 Pros:
Dedicated server resources without extra complexities
Highly scalable configurable
FANTASTIC price
Supports other management systems other than WordPress
VERY easy to configure
Cons:
It has its panel, which requires a bit of learning if you are used to the cPanel
Complex web signup process
Occasional lapses in customer support quality
If you are willing to choose Cloudways then check our Cloudways Coupon Code to save a few bucks on your purchase.
---
4. SiteGround
Minimum Price: 6.99 AUD/month (regular 19.99 AUD/month)
Minimum Disc Space: 10GB
Backup Schedule: daily
Do you want premium WordPress hosting? Then, SiteGround is the hosting service for you. They combine quality, speed, consistent load time, and fantastic customer service.
SiteGround offers managed hosting for WordPress that eliminates cloud server-related hassles, allowing you to scale your website to your taste.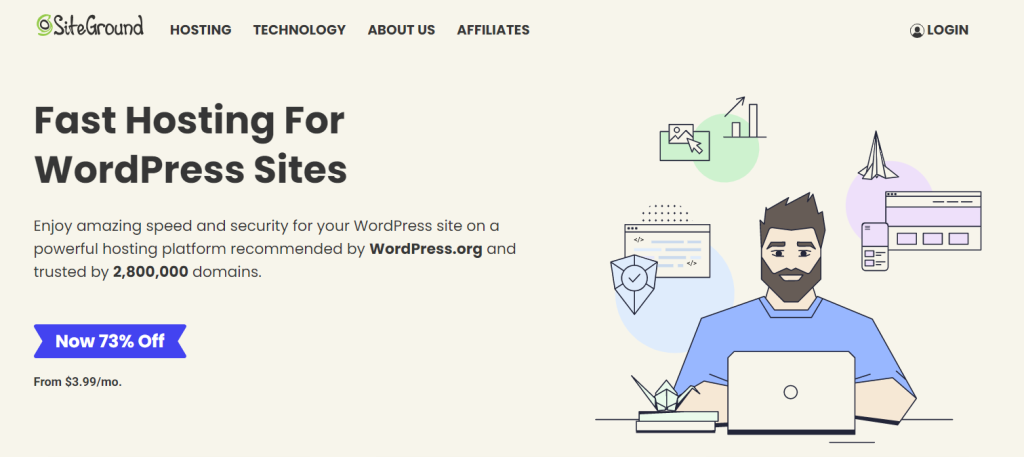 With Cutting-Edge Managed Web Hosting features like advanced caches, Breeze, and CloudwaysCDN for fast performance, you can count on Cloudways to deliver the needed speed and more.
Pros:
Regarded as one of the best for general-purpose hosting
5 well-placed locations to choose from
It also supports other management systems apart from WordPress
Cons:
Not so suitable for large sites
It's a shared host, so you don't get a lot of CPU resources
Want to save some extra bucks on SiteGround, then check out our exclusive SiteGround Coupon Code.
---
5. Crazy Domains
Minimum Price: AUD 5.42/month (regular 10.83 AUD/month)
Bandwidth: 100,000 monthly visitors
Though it began as a domain registrar, Crazy Domains has expanded to include various WordPress Hosting plans which are amazing for WordPress Users.

It also provides you with a wide variety of WordPress features like one-click staging for GIT pre-installed, WP-CLI enabled, and frequent updates for WordPress.
Pros
Offer free DNS hosting.
Comes with a wide range of features for each hosting plan.
One of the most affordable shared hosting plans.
Easily scalable to suit your business.
It also offers SSL certificates for purchase at affordable prices.
Cons
Doesn't offer dedicated and cloud hosting options.
Advertised VPS prices are for self-managed servers only, and prices increase for managed hosting.
A basic shared hosting plan with insufficient storage space.
No free SSL certificates
---
6. Kinsta
Miniumum Price: $350 per year
Minimum Disk Space: 10 GB Disk Space
Minimum Backup Schedule: Daily Backup
Kinsta is one of the fastest growing WordPress Hosting in Australia. Kinsta had impressive loading speed when it was tested. It offers robust CDN, SEO, last-gen PHP, and free SSL. It provides the complete solution to your WordPress hosting requirement whether you run your website, agency, or online shop.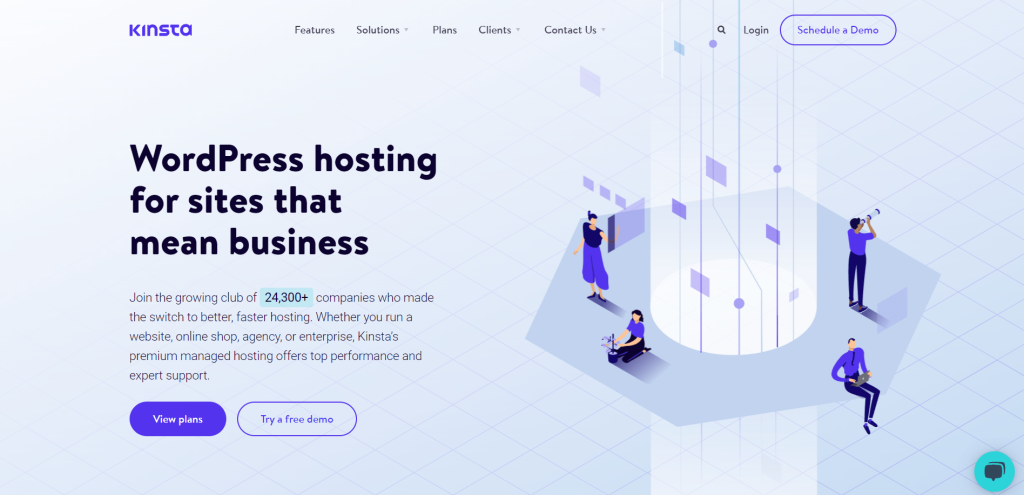 Pros:
Custom panel to manage your WordPress
More than 25+ locations to choose from
100% uptime
24/7 customer support
Free CDN
Google Cloud server
Cons:
Some plugins are banned
Little bit pricy
---
7. Hostinger:
Minimum Price: $2.75 per month.
Minimum Disk Space: Unmetered.
Hostinger is one of the best and most reliable hosting providers that aim to make life easier for its customer by providing premium management tools to increase your website's speed and bandwidth.
Hostinger is the best option for new websites that want the best quality of hosting services at a very cheap price. It is the best option for the high-traffic site for those who want to scale without swapping providers.
Pros:
User-friendly interface.
Daily Free Backup
99.99% of uptime
Ease of use
Unlimited Features
Free Domain
Cons:
Limited Support
Don't have a traditional cPanel.
---
8. WP Engine:
Minimum Price: $24 per month
Minimum Disk Space: 10 GB Disk Space
Minimum Backup Schedule: Daily Backup
Wp Engine is one of the best WordPress web hosting providers in the market. It is best known for managing the hosting service on WordPress sites. It has a built-in CDN that helps you to speed up your site really fast. It is a very highly extensible hosting architecture that helps you to build a reliable, robust, and faster site.

Wp Engine is the most powerful WordPress site with reliable and fastest-managed WordPress hosting. With the help of this platform, you can monitor your site performance with actionable data and page speed insight.
Pros:
Well-optimized for the WordPress users
Offers consistent and solid performance
Easy-to-use interface
24*7 dedicated customer support
Reduce the process of managing the website
Cons:
A little bit pricy for the beginner
Some themes and plugins are not allowed
---
9. WPX Hosting:
Minimum Price: $24.99 per month
Minimum Disk Space: 15 GB Disk Space
Minimum Backup Schedule: 28 Days Daily Backup
WPX Hosting is a dedicated managed WordPress hosting provider that offers the fastest WordPress hosting at affordable pricing. It is a one-stop solution for speed optimization, malware fixes, unlimited site transfer, bug fixes, and many more. It is basically developed to offer a client website with the fastest loading speed based on a customized CDN. WPX Hosting offers highly specialized SSD servers that keep loaded with the site account beneath their capacity.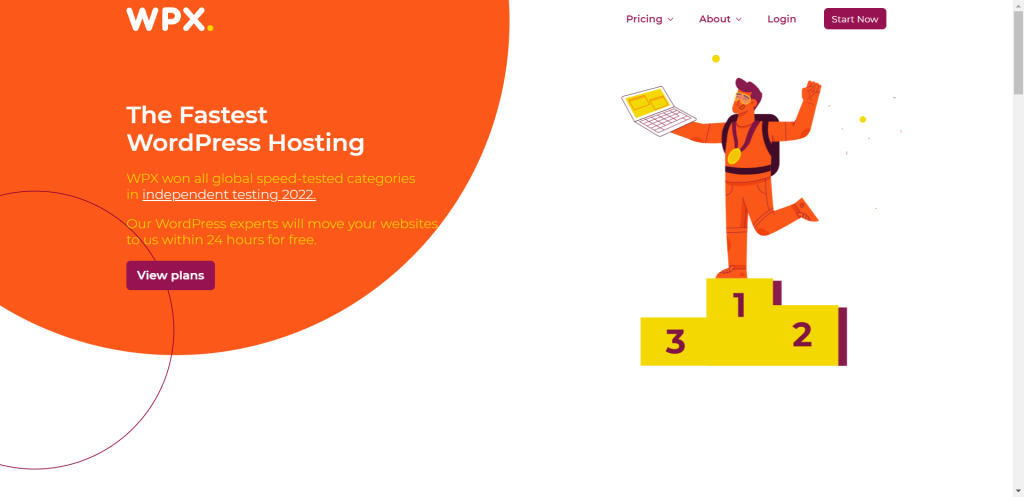 WPX Hosting also provides quick responses to customer complaints and queries. The average reply time is 30 seconds and continues via the live chat feature.
Pros:
Single-click WordPress installation
Free SSL certificate
DDoS protection
Staging area creation
SSD storage
Cons:
Limited Scalability
A limited number of PHP workers
---
10. FastComet:
Minimum Price: $2.49 per month
Minimum Disk Space: 15 GB of Space
Minimum Backup Schedule: 7 Days Daily Backup
FastComet is the most advanced cloud hosting platform that offers 24*7 support and service. It is most widely recognized as a top-tier hosting service with robust features and the best customer support available.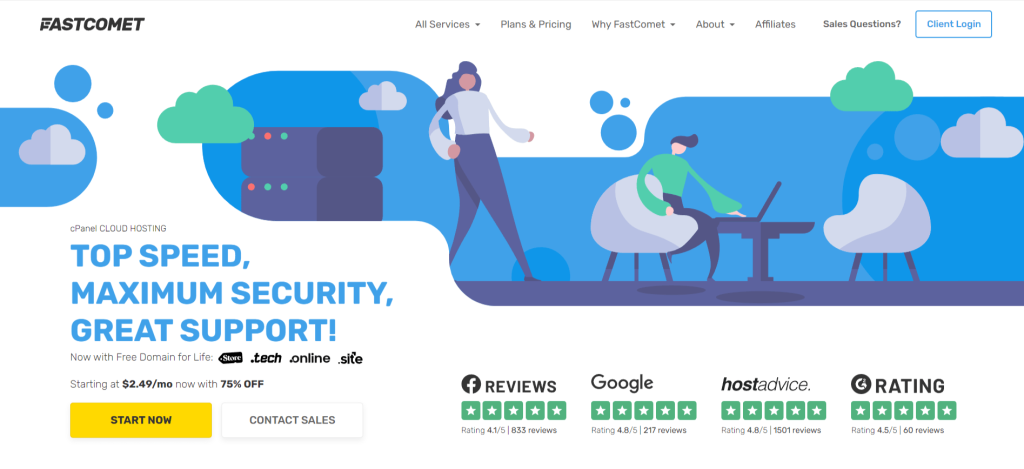 FastComet was launched in 2013 and has established itself as a trustworthy provider in the hosting industry. It operates in more than 80+ countries with 50000 users. Its hosting business has 8 data centers in prime cities like San Fransisco, Chicago, Singapore, Amsterdam, Tokyo, and London to provide service to its international clients.
Pros:
Offers a variety of hosting service
Free daily backup
Offers DDoS protection & DNS security
24*7 customer support
99.9% of excellent uptime
Free site migration
Cons:
Lack of free domain
Average UI
---
Features to Look Out for in Choosing an Australian WordPress Hosting
Here are the features you need to look out for when choosing an Australian WordPress hosting.
Speed, Reliability, and Uptime
Though many people understand how vital site speed is, few pay enough attention to reliability and uptime. You can only talk about speed when your site is up and running.
A website's uptime is the total amount of time the website is available to users in a given period.
Hosting with a high uptime guarantees that your WordPress will also stay up and running.
Customer Support
Who said everything would go smoothly forever? You will, at some point, need support from your host.
This is why you must also consider the customer support service of your host when choosing one for your WordPress.
Security Patching
Every now and then, a server will require security patches to eliminate any form of vulnerability and loopholes. It would help if you went for a host with adequate provision for regular security patching.
Related Read:
Conclusion: Fastest Australian WordPress Hosting (2023)
After a thorough analysis of the top Australian WordPress hostings, our professional recommendation is that you choose one that ticks all the boxes for your specific service needs.
However, to get started quickly, you should consider the top two hosts on our list; Elementor Cloud Website and Cloudways, as they offer everything you need to get your WordPress hosted for any business needs.