Want to know if there is a free trial available on Teachable? You have landed on the right page to get the answer to this question.
I will come straight to the point, Teachable used to offer a 14-day free trial of their pro plan, but they no longer offer it. Instead of that, they offer a free plan which gives you limited access to all the Teachable features, and there is no validity of the plan, which means you can use it as long as you want.
If you don't have any experience with creating a course, then Teachable can help you with that. It is a beginner-friendly platform that allows you to create unlimited courses and the option to add as many students as you want, even in the free plan.
I've featured the Teachable free trial in this post, which includes a step-by-step guide to getting started with this offer. In the end, I have also explained Teachable pricing in detail. Stick till the end to know why you should choose Teachable.
Let's get started right away.
How To Get Started With Teachable Free Plan? (Step By Step)
To claim the free plan of Teachable, you don't need to give them your credit card details. You just need to follow all these steps in the same order to get started with the Teachable free plan.
Step #1: If you're having issues finding the free plan of Teachable manually, then visit the official website of Teachable using this link. Click on the Pricing button to see all the available Teachable pricing plans.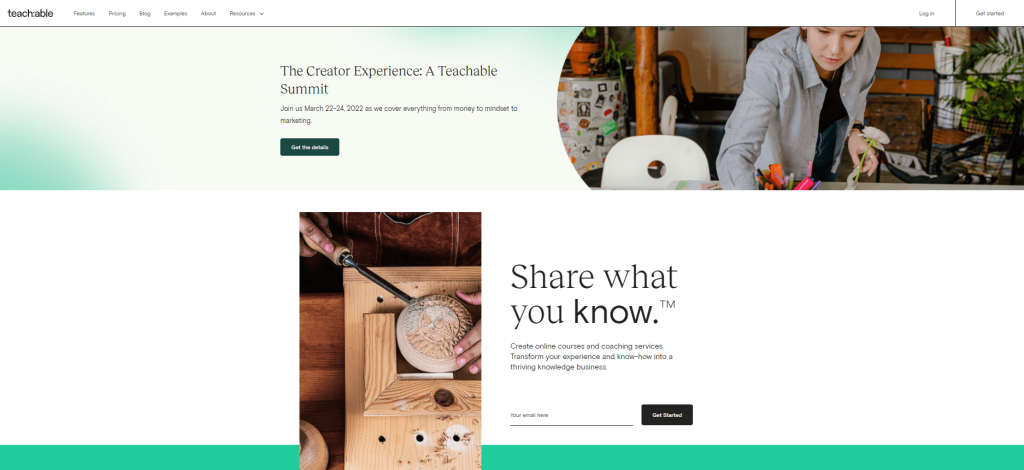 Step #2: You can see Teachable is offering four plans. Click on the "Select Plan" button to get started with the free plan.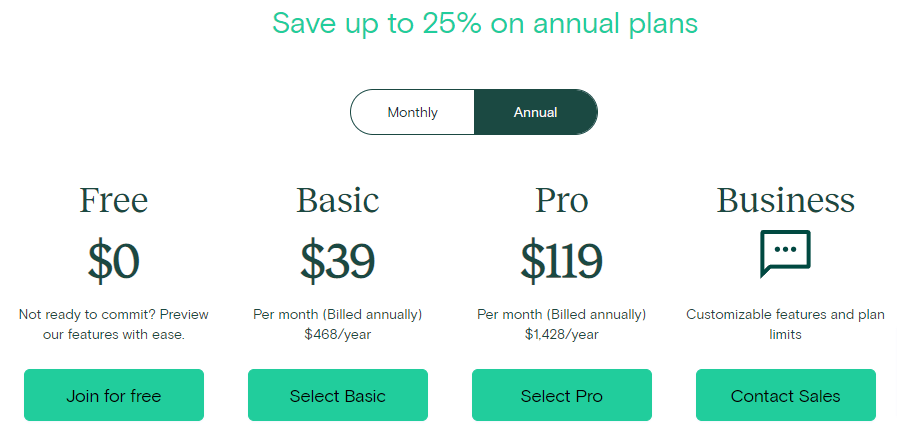 Step #3: To start with Teachable, you must create a new account. You can create a new account on Teachable using your email address, name, password, and confirmed password. Tick mark the terms and conditions box and click on the "Create Account" button.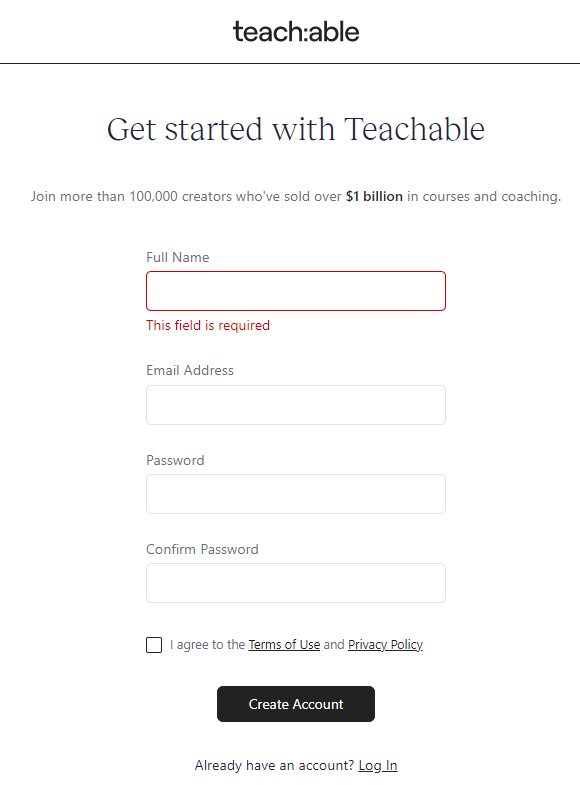 Step #4: You need to enter a school name and complete their onboarding survey.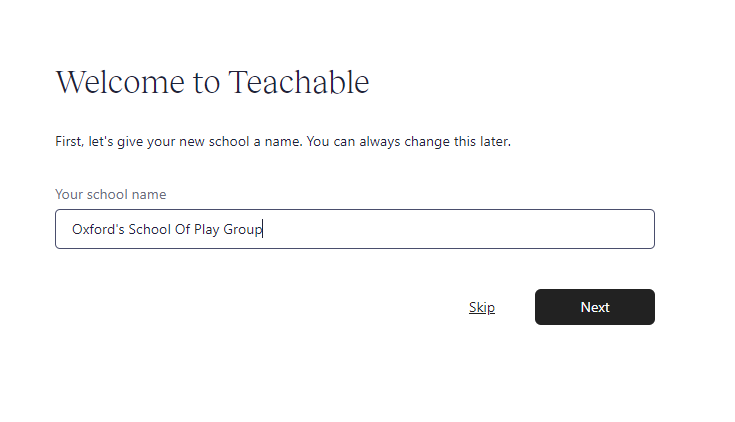 Step #5: On their onboarding survey, you need to answer these questions: Are you a business owner, which topic is most relevant to your business or content, what category best describes your business stage, are you already teaching an online course, and what is the size of your audience. Click on the "Next" button after answering these questions.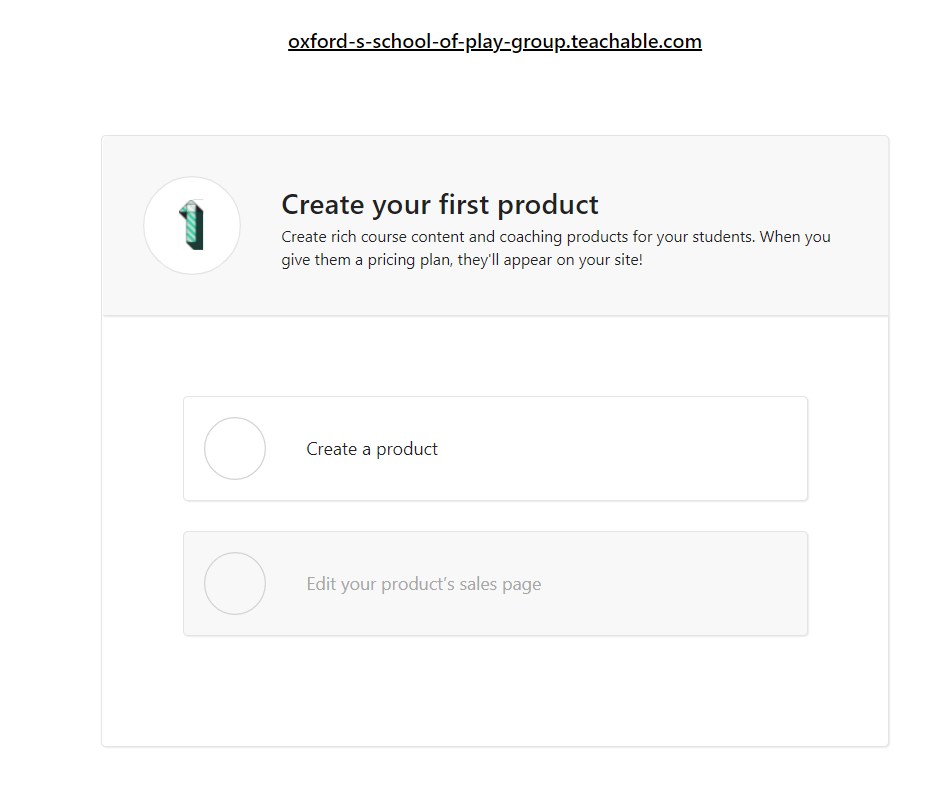 If you follow these steps, then your account setup will be completed. Now you can create your online course easily. All the features are streamlined in a single dashboard of Teachable so that you don't have any accessibility issues.
Teachable Overview:
Teachable is one of the best platforms which helps you to create & sell online courses. Teachable is a platform that transforms your knowledge into income and prepares you to start your online business. It also takes care of everything from web hosting to the payment process, and it offers several plan tiers which increase in options as costs grow.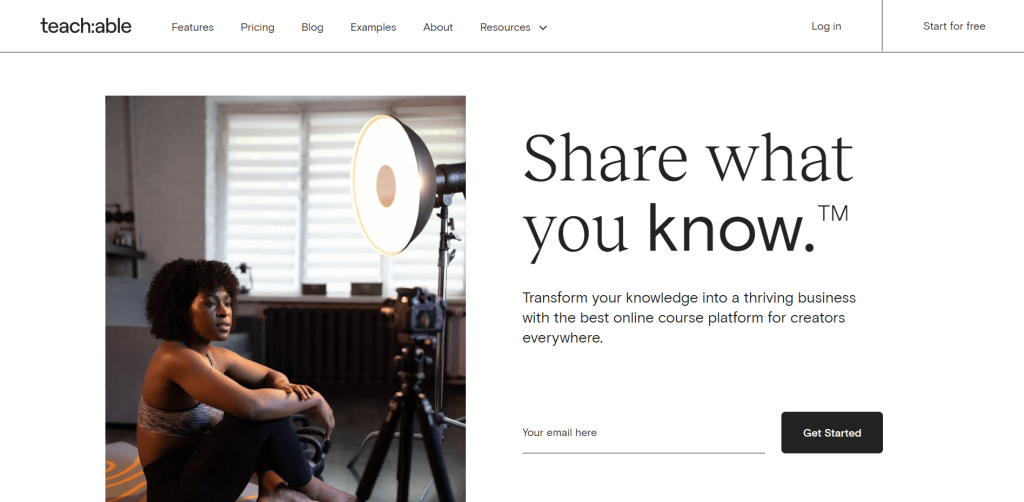 Teachable is the only exceptional online course developer that is jam-packed with features. This platform has built-in email marketing automation that helps you communicate with the students smoothly.
Teachable Pricing Explained
In this section, I will explain Teachable Pricing plans in detail.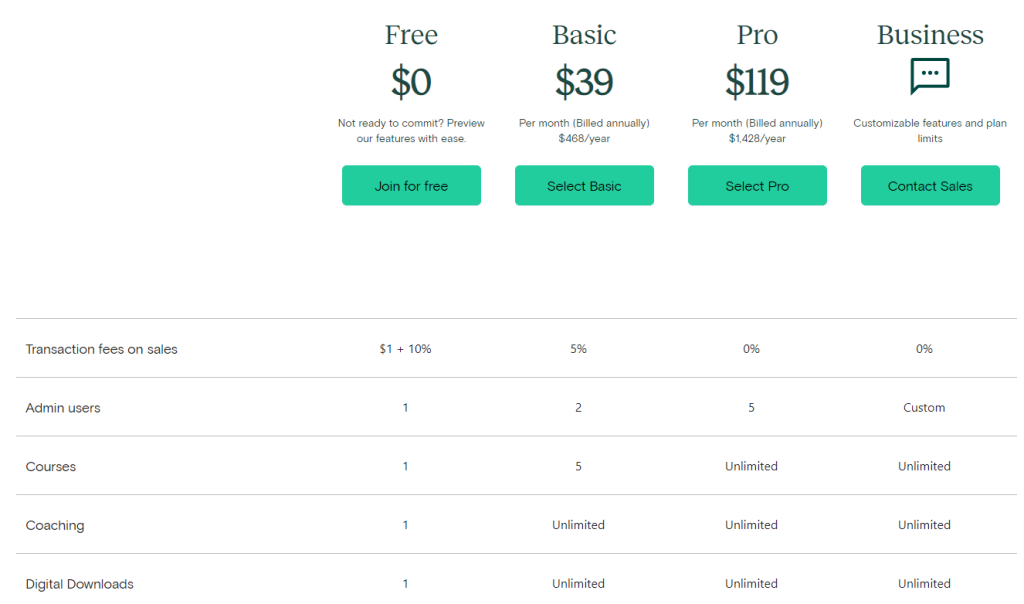 1. Free Plan
The free plan does not cost anything to you, and you can use this version as long as you want. It allows you to create unlimited free and paid courses. The only downside to this plan is that for every sale you make on paid courses, you need to pay a transaction fee of $1+10% per transaction.
With this plan, you get access to some fantastic courses such as the option to add unlimited students, provide unlimited coaching, unlimited hosting, unlimited video bandwidth, student management dashboard, basic quizzes, integrated payment processing, CSS snippets, course design templates, and one admin user access.
2. Basic Plan
If you choose the monthly version of the basic plan then you need to pay $39/mo for the annual version, you need to pay $29/mo. This plan gives you complete access to all the free plan features. You will also need to pay a transaction fee of 5% per transaction in this plan. You will also receive email support from the Teachable customer support team.
This plan offers you features like drip course content, free custom domain connection, integrated email marketing tool, ability to create coupon codes, two admin user accesses, third-party integrations, access to the members-only community, course creator training, and community integration.
3. Pro Plan
The monthly version of the pro plan will cost you $119/mo and the annual version will cost you $99/mo. You will get access to all the basic plan features in this plan. You won't have to pay any transaction fees in the Pro plan, so don't worry about that. You will also get live chat support along with email support from the customer support team.
This plan gives you access to features like Zapier actions, an integrated affiliate program, course completion certificates, advanced reports, five admin user accesses, upsells, an unbranded website, course compliance, and group coaching calls.
If you think teachable is very expensive, well check our working Teachable Coupon Code and get up to 50% Off here.
Advantages of Teachable Free Trial:
On Teachable you will get many robust features so that you can create and manage courses. If you have subscribed to the Teachable free trial you can get many features where you will get actual exposure to course creation, selling, and enrolling students to make analytics of their achievement.
Teachable allows you to manage students and sales, it also helps you to take care of all the technical aspects and allows you to focus on content development. If you find any difficulty in creating content you can contact its customer support team.
Why Should You Choose Teachable?
The eLearning industry is growing rapidly in this era, and nowadays, everyone is trying their luck in this industry. Most people use course creation tools such as Teachable, Thinkific, LearnWorlds, and more to stand apart in the crowd. Teachable is a dedicated course creation tool with unique functionalities.
From individual creators to business owners are using Teachable to create their professional courses and generate a lot of revenue. With Teachable, you don't have to worry about technicalities because it is designed in a way that even a beginner can use it. The ease of use of Teachable is one of the best things which differentiates it from other tools. I've personally used Teachable to create my online courses, and now they are generating good revenue.
Related Read:
Conclusion: Teachable Free Trial [2023]
Teachable can be the stepping stone you've been looking for all this time to create your first course. Its accessibility is one of the best things about it. The one thing I like most about Teachable is that you can create unlimited courses and add unlimited students even in the free plan, but you will get limited access to all the other tools.
I hope you can get started with Teachable with this post on the Teachable free trial. Let me know your thoughts on Teachable in the comment section below.
Frequently Asked Questions:
Does Teachable offer any free trial?
Teachable doesn't offer any kind of free trial, but instead, it offers a Free plan with some basic features so that you may get familiar with Teachable before subscribing to paid plans.
Is there any refund policy on Teachable?
Teachable offers a 30-day of money-back guarantee for all its users. For any reason, if you dont like its service, you can get a full refund within 30 days of subscribing to it.
What payment method does it accept? 
Teachable accepts all major types of Credit Cards like Visa, American Express, Discover, and Master Card. You can also via PayPal.
What are the transaction fees on Free Plan?
In the Teachable Free plan, transaction fees are $1+10% fixed fee.
How much discount do I get on Teachable?
Teachable offers coupons and discounts occasionally. As of now, you can save a flat 25% discount if you purchase any of its annual plans.
What is Teachable Launch Accelerator?
Launch Accelerator is the new tool which is recently added by Teachable. The aim of this tool is to launch and sell your courses within 30 days.